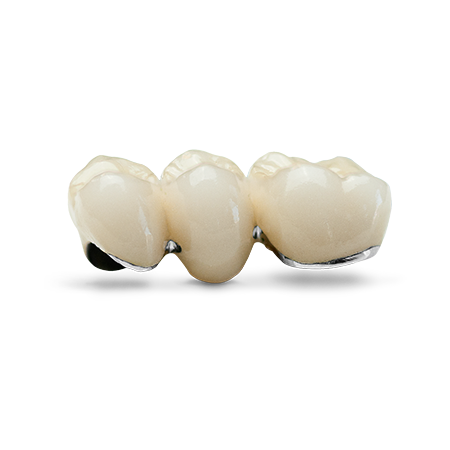 PFM
In porcelain fused to metal restorations, porcelain is typically fused to semi-precious, white or yellow high noble alloy. An ideal restoration for your most demanding patients.
Arcari traditional PFMs are fabricated using the most advanced materials available. With over 50 years in the dental lab profession, Arcari Certified Dental Technicians have substantial expertise in many techniques. This ensures a high-quality restoration critically focused on both function and esthetics.
Special attention is taken in trimming the dies, and your case is quality-controlled every step of the way from model work, wax, metal to ceramic-finished crown or bridge.
Though Arcari offers a full range of alloys for the creation of esthetic restorations, gold remains the perfect choice for many leading clinicians due to its longevity and functional success.